LINCOLN KNEELING IN PRAYER
By: Terry Diener
BY TERRY DIENER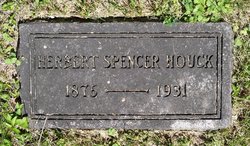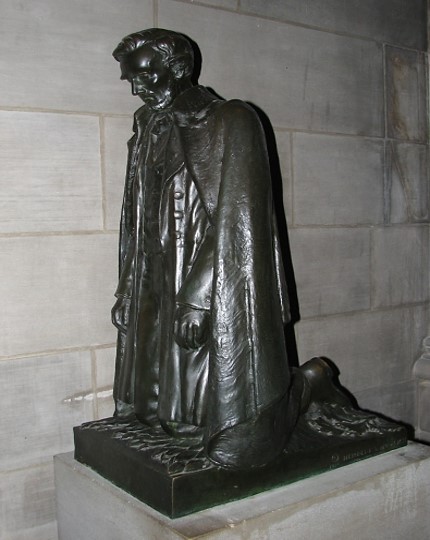 Montour County Historian Helen "Sis" Hause has a great newspaper column this week, detailing Abraham Lincoln's connection to Montour County Civil War soldiers. Her column is entitled "Moments in Time" and its amazing how local men had direct and indirect contact with Lincoln in his life and his death. Please take the time to read her column. Abraham Lincoln was born February 12, 1809.
I am sharing another Lincoln story linked to a man born in Danville.
This bronze statuette in the Washington National Cathedral is one of the most unusual Lincoln images in Washington D.C. Just 38 inches high, it rests on a limestone base in the building's northeast stairwell. It's the only known sculpted work of Abraham Lincoln kneeling in prayer.
The statuette, sculpted by Herbert Spencer Houck, who was born in Danville, was donated to the cathedral by his sister, Mrs. Florence N. Hildrup.
Houck was born in 1876 in Danville. We know that a Reverend Henry A. Houck was a Methodist minister who served in Danville at Saint Paul's Methodist church between 1876 and 1878. According to Civil War historian Randy W. Hackenburg a native of Danville, prior to the war, Reverend Houck served as a Chaplain in the 205th Pennsylvania Infantry Regiment from September 5th, 1864 until being mustered out on June 2nd of 1865. Hackenburg, in his book "They Paid the Price, Montour Countians in the Civil War" said the unit was stationed near Petersburg Virginia at that time and saw heavy fighting. He ministered in a number of Methodist churches following the Civil War including the one in Danville.
I am going to make an assumption that Herbert is the son of Reverend Henry Houck. Herbert served in World War I, enlisting at Carlisle as part of the 108th Field Artillery of the National Guard at the age of 38. He realized his gift as a sculptor some years later.
Now here is where the story behind the statuette of Lincoln Kneeling in Prayer becomes a bit uncertain. An unsubstantiated story says the inspiration for the pose came from Houck's grandfather, a Civil War chaplain who claimed he found the president kneeling among the leaves near the battlefield at Gettysburg before his famous address. Could it be that it was Herbert's father who shared that story with his son?
President Lincoln was no stranger to prayer. According to reporter Noah Brooks, "Prayer and reading of the Scriptures was his constant habit." Lincoln told Brooks, "I have been driven many times upon my knees by the overwhelming conviction that I had nowhere else to go."
One sad note on the life of sculptor Herbert Spencer Houck. He was found dead in his New York apartment in 1931 with a bullet wound to the head. His body was returned to his former home in Carlisle, where the Sentinel newspaper reported he was buried on June 3rd,1931.
Credits: Find-A-Grave
They Paid the Price, Montour Countians in the Civil War, 2012, Randy Hackenburg